Expensive dreams temporarily put aside
Ms. Nguyen Thu Huyen is a business manager in Hanoi having an endless passion with traveling. To her, enjoying life with resort vacations is the best way to regenerate working energy and motivate to work more afterward. This inspiration also spreads to other members in her family including her husband and her children.
Huyen is proud to travel with her family in almost all provinces and cities of Vietnam, they once conquered Mount Fansipan, walked along Phu Quoc coast at night or admired the Dong Van rock plateau in Ha Giang …
However, Huyen is still regret because she has never experienced a luxurious vacation of A-list stars like what she read in the newspaper. They can stay at world-class hotels and resorts with unique facilities presenting at other projects, luxurious furnishings and professional services. Those are the images that make who is "addicted" to traveling like Ms. Huyen always dreams of to accompany and experience with her family.
She always thinks the quality trip is when she can meet her needs of relaxing, shopping and exploring for herself and all family members. If a vacation is full of emotions and all the needs are taken care of, all family members will have more intimacy, at the same time it helps to create excitement to produce more effective job and motivate more to earn for next trip.
Word comes with action! She immediately keeps looking for destinations as well as planning to get ready for a big vacation but she quickly disappointed that most famous destinations are abroad so they are beyond her financial capacity. Therefore, she has put aside her dreams and continues to wait for future opportunities.
Heaven in front of you?!
Ms Huyen said that recently when she was reading newspaper about a project with the most luxurious facilities that can be compared with vacation heaven in Bali, Maldives, Phuket… but located in Nha Trang – a city only 1 hour flight from Hanoi.
The pictures and information that she read is the Sunshine Marina Nha Trang Bay – the dedicated project of Sunshine Group. Through information, Ms. Huyen is overwhelmed when knowing that this will have nothing different from any other miniature heavens in famous locations with top high-class facilities at the present.
Ms Huyen realized that: Sunshine Marina Nha Trang Bay is a place to make her life wish come true. What welcoming her little family when coming her will be a luxurious room with unique balcony and Jacuzzi. Through the transparent glass, her apartment is like blending in with living pace of the coastal city: bright sunlight in the morning and mysterious peaceful star night.
In here, she and her family will experience the first-class luxury amenities for the super-rich or the A-list stars. She shared that it will be unforgettable nervous feeling when swimming in glass-bottom aquarium pool and the feeling like you are immersed in the ocean but absolutely safe. It even somewhat satisfied "bold" personality of a woman like her.
It's not the end! Huyen continued her unforgettable experience with Sky Park Resort including 3 experiences of Sky Infinity Pool, Sky Desk and Sky Bar. The special feature is that all 3 utilities are on the rooftop of the resort, so it's almost like she is relaxing on the top of Nha Trang city.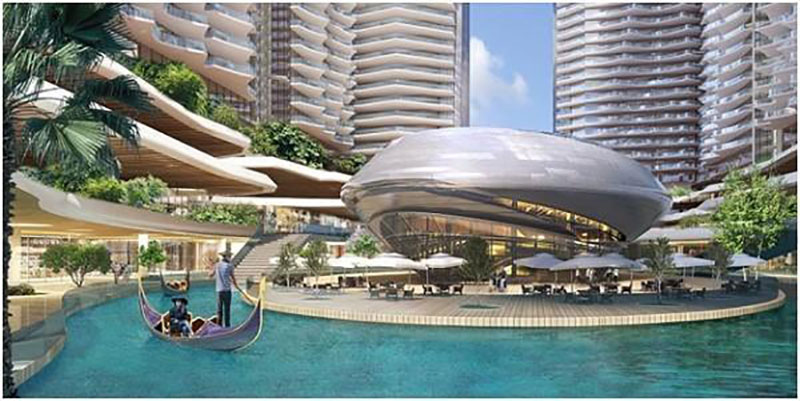 Sunshine Marina Bay will have a series of favorite facilities like in Singapore and Hong Kong including: inner river, infinity pool and 5-star sky bar… bringing  unique experience for customers.
"One of the experiences I will find it extremely special is the aquarium restaurant. Imagine that when you are enjoying the meal, outside is the sea creatures swimming. This feeling is really impressive" – Huyen excitedly shared her feelings when imagining about the experience at the first aquarium restaurant in Vietnam.
At Sunshine Marina Nha Trang Bay, the female manager also set foot on the marina for the first time – this is the place she just saw in tourist magazine but had not had the opportunity to try. Then came the sublime moments with performances in 365 festival days inspired by the coastal city of Nha Trang.
"I think it should not be called a vacation but a journey of experience, because my family and I will have chance to try and feel the best things in the world" – Huyen shared. Her husband decided to own an apartment here to make the desire to have luxurious holidays like A-list stars come true.